Apologies for the lack of linky last week, I was laid up with yucky norovirus. Thankfully this week has been rather better, with lots of afternoon tea experiments in the kitchen, a day at Butlins, and other adventures. Pull up a chair and have a cup of tea (or a glass of fizz) and let's catch up. I hope you've had a fabulous fortnight and have lots of great posts to link up in our Friday Fabulous linky. I'm looking forward to reading them.
You're welcome to link up a post or two from any genre, old or new, and do spread the linky love by having a look at some of the other linked posts. I'll be commenting and tweeting as soon as I can. If you'd like to use our badge and comment on the host's posts, that'd be great! Thanks for joining us.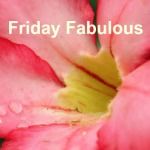 The linky will run from Friday to Sunday, so plenty of time to link up your most fabulous content up. Use the hashtag #FridayFabulous and/or nudge me at @AttachmentMumma for extra retweets etc.
Have a fabulous weekend!